Butterfly Dampers
Bachmann Dampjoint designs and manufactures a multitude of different types of gas-flow dampers in all sizes and configurations. Usually found in heavy utility and industrial plants, Bachmann Dampjoint gas flow dampers, with many cost-effective innovations, are used for isolation, flow control or a combination of both. The blades are actuated by pneumatic, electro-mechanical, hydraulic, or manual drive systems.
Combining efficient seating and rugged design, butterfly and louver dampers are capable of 99.9% shut-off in certain applications. Flexible stainless steel or nickel alloy seals assure long-life and easy maintenance. Elastomeric tadpole seals achieve extremely tight shut-off in low temperature applications. The damper blades are designed to avoid binding even under the differential expansion conditions prevalent in system start-up or shut-down.
Bachmann Dampjoint (BDI) Standard butterfly and louver dampers are:
Designed specifically to suit the application
Engineered to formulas developed by BDI's unique R&D program
All-welded for maintenance free operation
Made of formed plate, cut with high-definition plasma for precise interface with existing equipment
Made with stainless steel oversized shafts combined with stuffing boxes and external graphite-impregnated bearings
Available with a choice of alloys and seals
Large base of louver know-how, extensive research data and confidence of industry in BDI damper designs comes from this simplest, yet possibly most underestimated and misused flow control device. This true workhorse for any industry has system designers, engineers and maintenance specialists in agreement as being the most efficient damper but only if built right. BDI's large share of butterfly damper production is the replacement of dampers made by others that either did not perform to specification or experienced critical failures. We have yet to hear about BDI butterfly dampers being
replaced by others.
While the BDI quality may be evident to more experienced end-users of dampers, most engineers consider butterfly dampers as such crude and simple units, that differences between suppliers seem of little impact. As the industry leader in innovation and in experience, BDI takes pride in underlining these design features: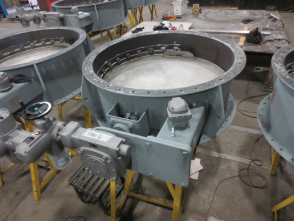 Oversized stainless steel stub shafts – the shaft is the part of the damper that sees every abuse possible: often exposed to actuator stall torque, radical
hot-to-cold temperature gradients, acid dew point, etc. BDI considers this a critical item to proper damper operation and longevity.
Torque plates and blade designed to resist deflection in torsion – It is not so long since the industry finally embraced the stub shafts as the proper approach to blade thermal challenges but has yet to notice the need for proper blade to shaft attachment. All BDI standard dampers have shaft to blade connections via torque plates.
Torque plate "secondary benefit" – for possible upset temperature, explosions or other situations that may expose damper to conditions for which the blade is not
specifically designed to resist, the torque plate is substituted with two connecting plates bolted to each other. This allows for easy blade replacement without damper removal from the ducting. This feature is standard on larger dampers and offered at no extra cost on smaller units, if requested.
Bearing and stuffing box arrangement for the real world – BDI standard bearing mount is 6" away from the damper frame which makes access to stuffing box
reasonable and insulating over the damper frame more uniform. The triple layer packing can be easily replaced with the damper in operation.
Performance calculations and torque requirements – BDI's extensive and continuously implemented R&D program eliminates guess work and fallacies still
commonly propagated by some suppliers. Our large database of actual damper testing with digital tension links, pressure blowers, real and simulated loads result in
empirical formulas that work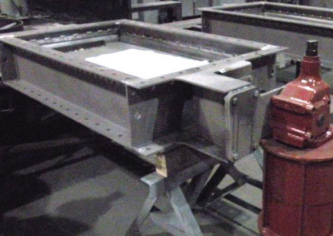 Bachmann Dampjoint Inc (BDI) Standard butterfly dampers are:
Designed specifically to suit the application
Engineered to formulae developed by BDI's
unique R&D program
All-welded construction for maintenance free operation
Made of formed plate, cut with high definition plasma
for precise interface with existing equipment
With stainless, oversized shafts combined with stuffing boxes and external, graphite impregnated bearings
With choice of alloys and seals as well as sizes to
match any ducting
Quite often butterfly dampers face challenges where no standard can be applied. BDI engineering has successfully provided such solutions for most demanding environments: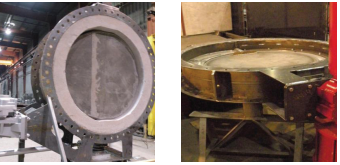 High temperatures – From all alloy construction through water cooled steel to forced air cooled refractory, BDI supplied dampers that are exposed and operating up to 2,400oF.
Dusty environments, low velocity – Slow moving, heavy loads often impede blade rotation and prevent proper isolation. The understanding of the applications can save
weeks of downtime with appropriate design.
Dusty environments, high velocity – Even simple dust particles in flue gas can erode typical materials if given sufficient speed. BDI has plenty of experience with suitable
technology of anti-abrasive coatings, lining and abrasion resistant alloys to build dampers that last.
Custom sealing requirements – Besides the typical swing through, metal step, tadpole or knife edge seats, BDI is one of very few manufacturers that offers custom metallic bellows flexible seal for round dampers.
Moreover, every one of our butterfly dampers even for the most simple application is entirely custom designed so there is no need to adopt special bolt pattern, flange to flange or breach for welding. We will match your interface requirement, provide suitable lifting points and even supply mating flanges with installation hardware if needed.
You may have a location or application where a butterfly damper is not
suitable but don't let anyone tell you that some other type of damper is
better than a properly designed and well built butterfly damper