Guillotine Solid – Flex & Convolution Seal
When tight shut-off is paramount, a guillotine is often specified to do the task. However, there are many different designs and the selection of the proper type of guillotine damper depends on the application and can vary greatly. Bachmann Dampjoint can guide the end user to select the most cost-effective solution between: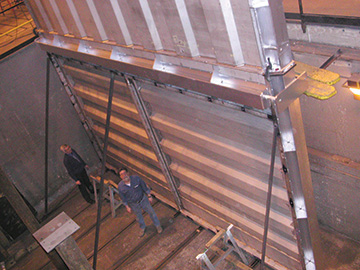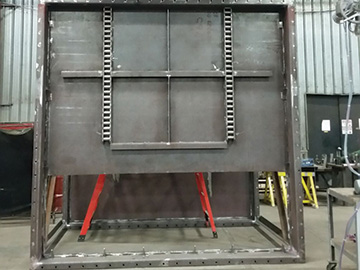 Flex-Seal
The "Flex-Seal" guillotine damper consists of a body, blade, and bonnet. The seat is a convex track covered with a high nickel-alloy cap seal, providing a corrosion and stick-resistant flexible surface. The blade is surrounded by "U" shaped peripheral frame which forms a labyrinth-type seal in the closed position. The blade is totally withdrawn in the open position, therefore preventing seat cavity entrapment of medium and eliminating the purge air required by all other conventional guillotine damper designs. The "Flex-Seal" damper provides 100% isolation with the addition of seal air.
Solid Seat
Where a high degree of isolation is needed, but 100% shut-off using seal air is not warranted, the solid seat guillotine can provide an extremely rugged and cost-effective alternative. The thick plate of the blade is wedged against a heavy solid steel seat upon full closure.