Louver and Butterfly Dampers
Bachmann Dampjoint designs and manufactures a multitude of different types of gas-flow dampers in all sizes and configurations. Usually found in heavy utility and industrial plants, Bachmann Dampjoint gas flow dampers, with many cost-effective innovations, are used for isolation, flow control or a combination of both. The blades are actuated by pneumatic, electro-mechanical, hydraulic, or manual drive systems.
Combining efficient seating and rugged design, butterfly and louver dampers are capable of 99.9% shut-off in certain applications. Flexible stainless steel or nickel alloy seals assure long-life and easy maintenance. Elastomeric tadpole seals achieve extremely tight shut-off in low temperature applications. The damper blades are designed to avoid binding even under the differential expansion conditions prevalent in system start-up or shut-down.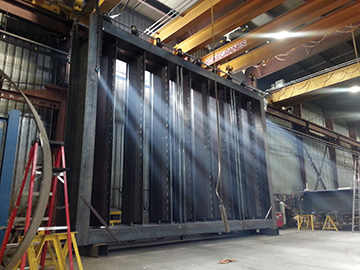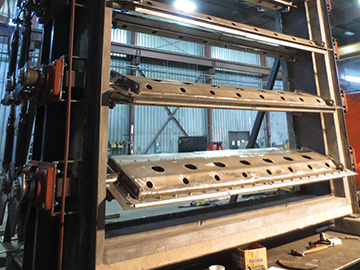 Bachmann Dampjoint (BDI) Standard butterfly and louver dampers are:
Designed specifically to suit the application
Engineered to formulas developed by BDI's unique R&D program
All-welded for maintenance free operation
Made of formed plate, cut with high-definition plasma for precise interface with existing equipment
Made with stainless steel oversized shafts combined with stuffing boxes and external graphite-impregnated bearings
Available with a choice of alloys and seals